One of my fabulous advertisers, Monogram Chick, is doing a great giveaway for Blue-Eyed Bride readers today.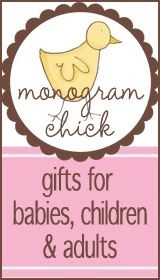 She's giving away an engraved cutting board up to a $50 value! This is so exciting because I've been wanting one of these ever since I gave one to my in-laws for their anniversary. It looks beautiful displayed in their kitchen.
Check out Monogram Chick's engraved cutting boards here and see which one you like best.
Just leave me a comment and let me know which one is your favorite!
The winner will be announced next week. Good luck!